MiniStation™ Extreme
HD-PZFU3
MiniStation™ Extreme offers easy to use storage for PC or Mac with MIL-SPEC shock protection, an integrated wrap around USB cable and optional 256bit AES hardware encryption.

1TB Black: HD-PZF1.0U3B
1TB Red: HD-PZF1.0U3R
1TB Silver: HD-PZF1.0U3S
2TB Black: HD-PZF2.0U3B


MIL-SPEC Shock Protection
The MiniStation HD-PZFU3 model provides superior with a ruggedized case, shock-absorbing internal bumpers, and hardened chassis. This level of protection conforms to U.S. Military Standard "MIL-STD-810G 516.6 Procedure IV" (*1) used in selecting products supplied to the United States military. Robust protection shields data saved to the disk from impact if the drive is ever accidentally dropped.
* The device is dropped 26 times from a height of 1.2 meters onto plywood over a rigid solid. The drop angle is varied during testing so that the device drops on all corners and sides. The device passes the test if any one of five test samples is confirmed as operational after dropping.
* This drive is not warranted against damage to the hard disk, data, or exterior case in all operating environments. Additionally, protection does not prevent damage to the hard disk drive while it is in operation. Do not intentionally drop the drive or subject it to impact.
Designed and Made in Japan
This product is designed and built in Japan for high quality.
Safe, Rainproof/Dust-Resistant Design
The drive is not only designed for daily use, it's also rated IPX3 for rainproof performance and IP5X for protection against dust, so youcan rest assured it's protected even the weather unexpectedly turns bad.
Rugged Portable USB 3.0/2.0 Hard Drive with Encryption
Saved data can be encrypted in Security mode. Enjoy the confidence of carrying business documents and other confidential data without worries about leaked data if the drive is ever lost or stolen. The MiniStation uses 256-bit AES encryption.
* Windows RT 8.1/RT not supported.
The Integrated Flat Cable
The integrated cable stows neatly, which makes the drive easier to carry around and keeps the cable from snagging when the drive goes in or out of your bag. It's always attached, meaning no more worries about forgetting cables when out and about.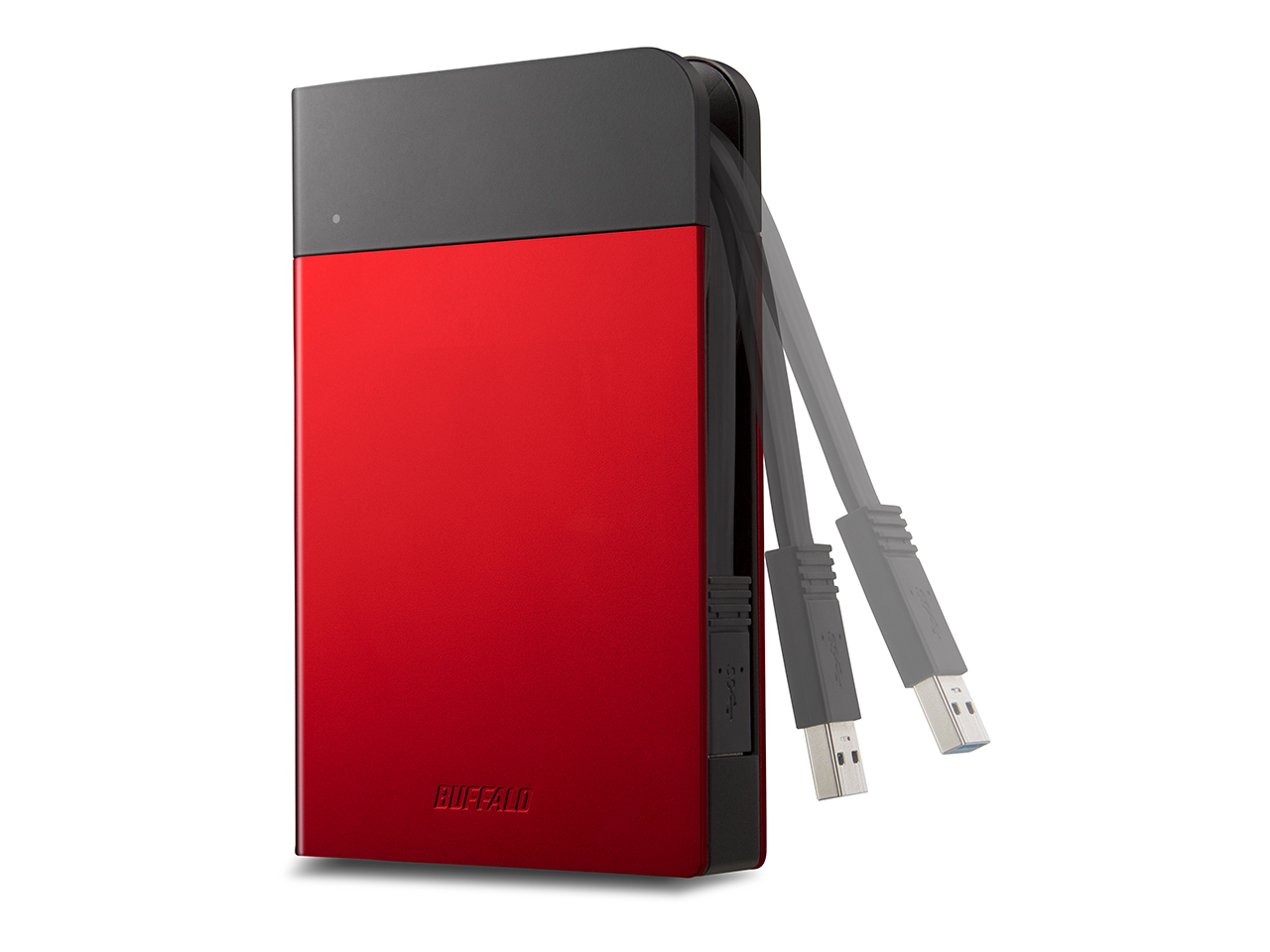 Hardware Overview
Dimensions
Model
Color Variation & Drive Capacity
Crystal Black
1TB Black: HD-PZF1.0U3B
2TB Black: HD-PZF2.0U3B
Aquamarine Blue
-
Ruby Red
1TB Red: HD-PZF1.0U3R
Rose Quartz
-
Crystal Silver
1TB Silver: HD-PZF1.0U3S
Champagne Topaz
-
Pink
-
White
-
Yellow
-
Internal Hard Drives
| | |
| --- | --- |
| Number of Drives | 1 |
| Drive Interface | SATA II |
USB Interface
| | |
| --- | --- |
| Standard Compliance | USB 3.0 |
| Number of Ports | 1 |
| Data Transfer Rate | USB 3.0: Max. 5 Gbps |
Key Feature
Feature
Hardware Data Encryption
Compact and Lightweight
Shock-Proof Chassis
Preformatted
OS Support
| | |
| --- | --- |
| Variety | Windows® 8.1/8 (32/64bit), 7 (32/64bit), Mac OS® X 10.9, 10.8, 10.7* *Only basic external hard drive functionality is supported with this operating system; some included utilities may not work. The HDD default format is NTFS; to work with Mac, reformat the HDD using Mac Disk Utility. |
Other
| | |
| --- | --- |
| Dimensions (LxWxH, mm) | 141 × 90 × 21 mm |
| Weight | 300 g |
| Operating Environment | 5-35°C |
| Power Supply | 20-80% (Non-Condensing) |
| Warranty | 3 Year |
Package Contents
Contents
MiniStation™ Xtreme HD-PZFU3
USB 3.0 cable
Quick Setup Guide
Warranty Statement
HD-PZFU3 / 2015-03-27

Product Datasheet

Download
You can compare the specifications of the product in this page. Click the model which you want to compare and click the "Compare"button.